22 Spooky and Creative DIY Halloween Nail Art Ideas
Halloween is coming! Have you started to prepare for the celebration? Home decorations, food, costumes, makeup, hairstyles…but don't forget your nail art design.
We've searched through some of the best Halloween nail art around to bring you the some best manicures for some spooky inspiration. From ghosts to monsters to candy corn, there's a little bit of nail art for everyone. Whatever you choose, it's sure to be boo-tiful.
Do you have a scary manicure planned for Halloween?
Below, 15 creative (and grown-up) styles to go along with the traditional Halloween staples—from witches to mummies. It's all about getting into character.
Pick your favorite nail art design and impress your friends this coming Halloween!
1.Jack Skellington Nail Art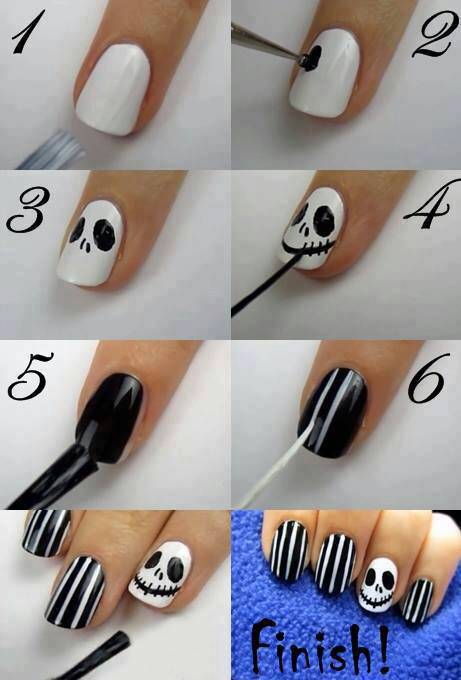 Tutorial via cutepolish
2.I see you!
Image via Pinterest
3.Casper? Is that you? 
Image via Pinterest
4.Five Cute & Easy Halloween Nail Tutorials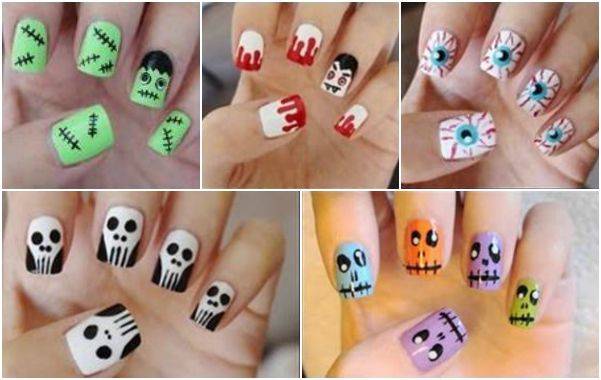 5. Blood Spatter Nails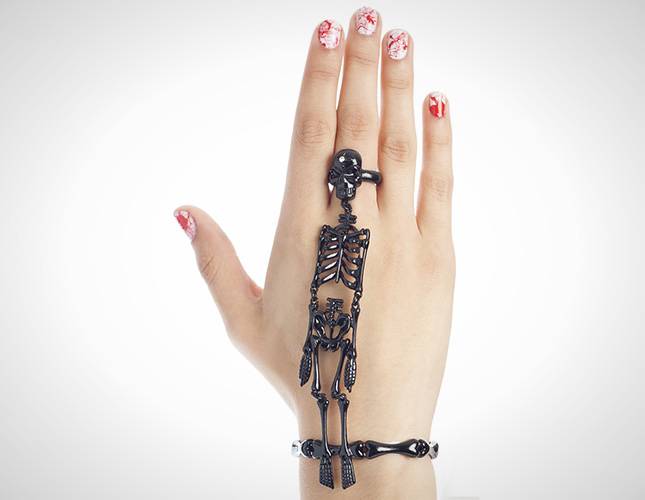 6. Scary & Bloody Halloween Nail

7. Scary Spider Halloween Nail Art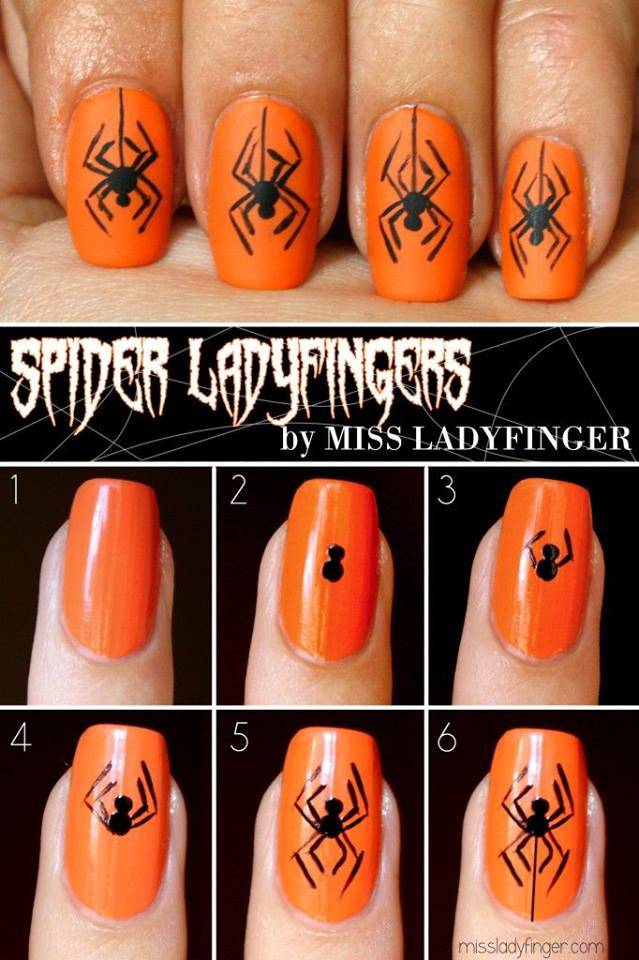 8.Besides being adorable, this black and white manicure will match any costume you decide to don. 

Image via Pinterest
9.Halloween Nail Art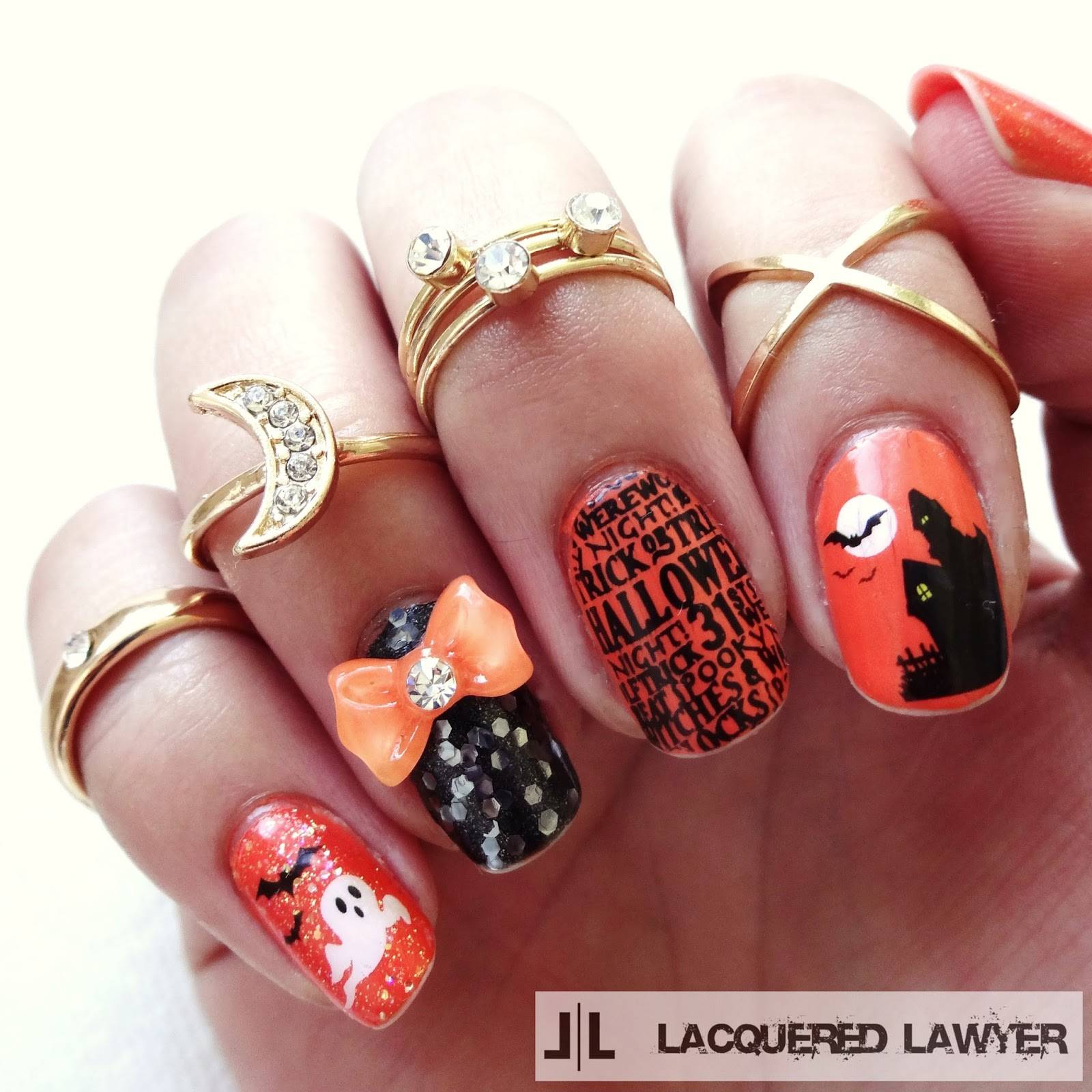 10.Spider Legs
In 2015, Salon Perfect made this Spider Legs glitter polish, and manicurist Chelsea King (@chelseaqueen) used it to create this creepy/crawly perfection.
11.Monster Mash
Terrifying furry tips from the UK-based nail company Doobys Nails (@doobysnails).
12.Zombie Nails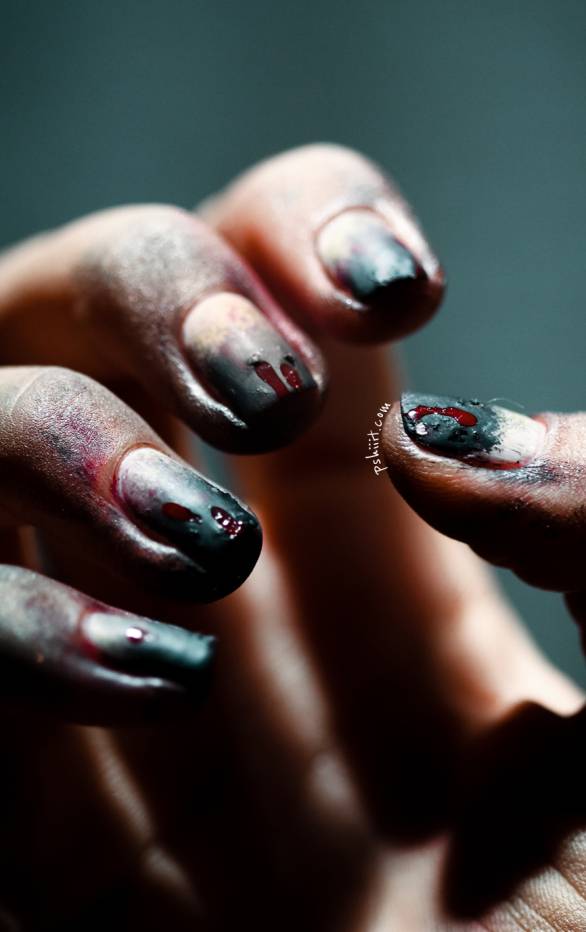 13.Mummy Nails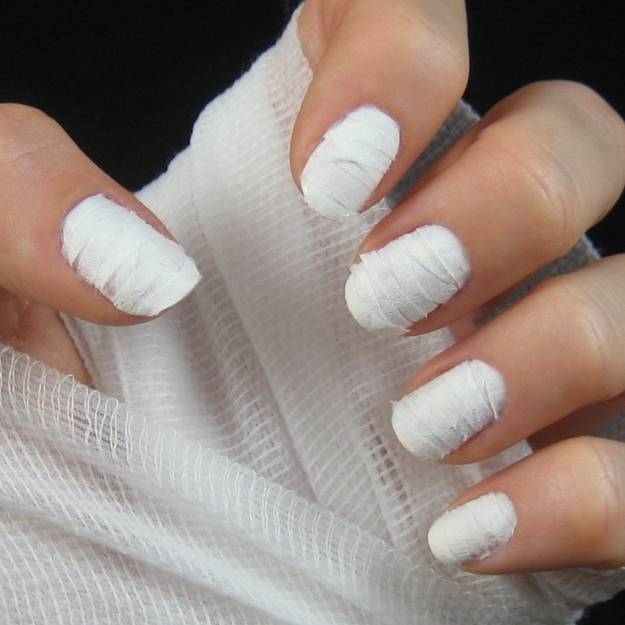 14.Monster High Frankie Stein Nails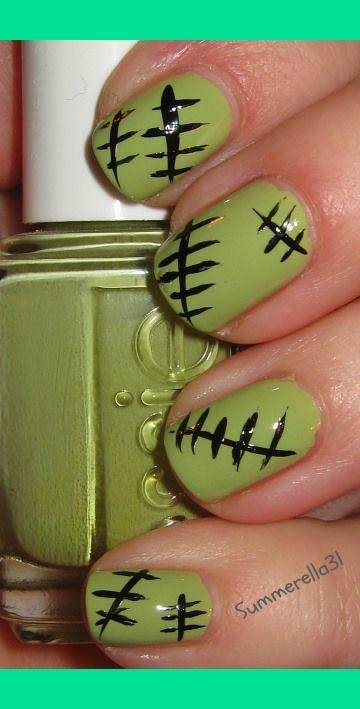 15.Spider Web Splatter Nail Art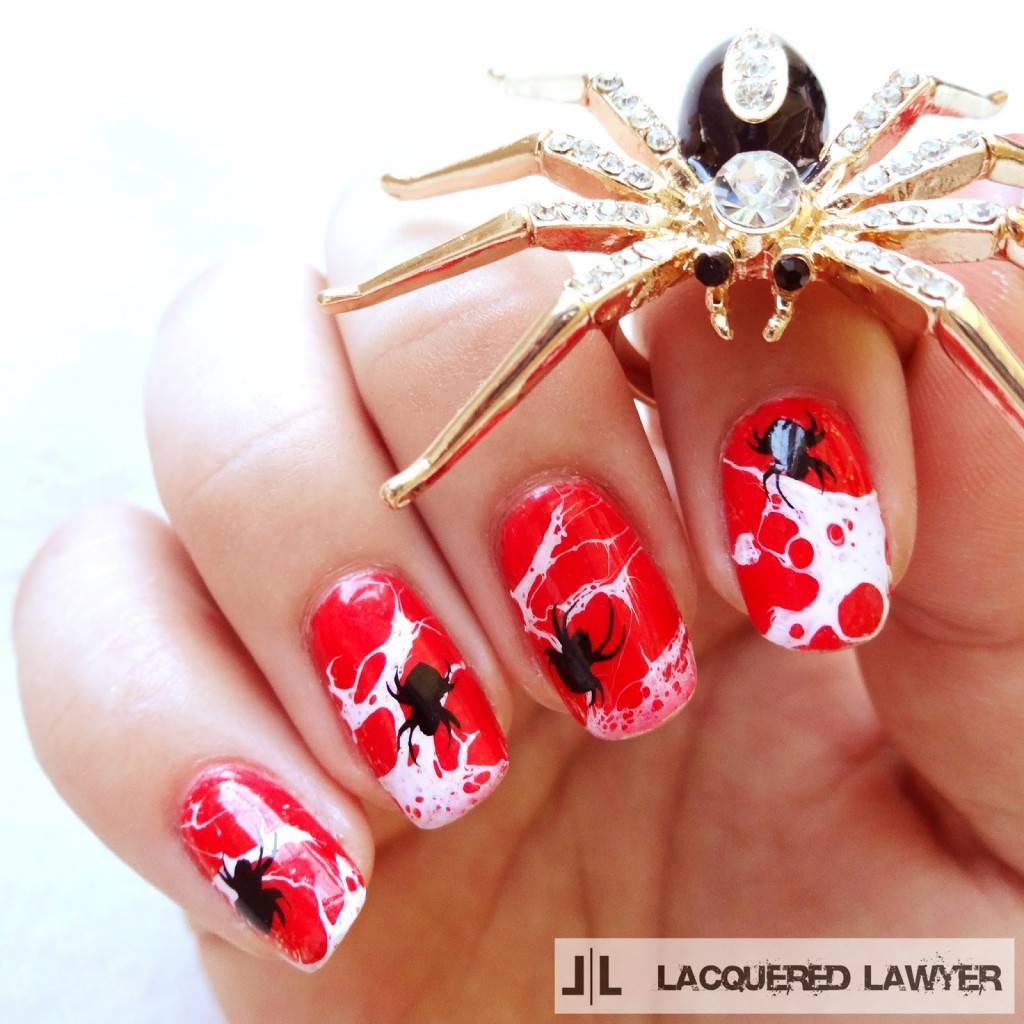 16. Halloween Mummy Water Marble Nail Art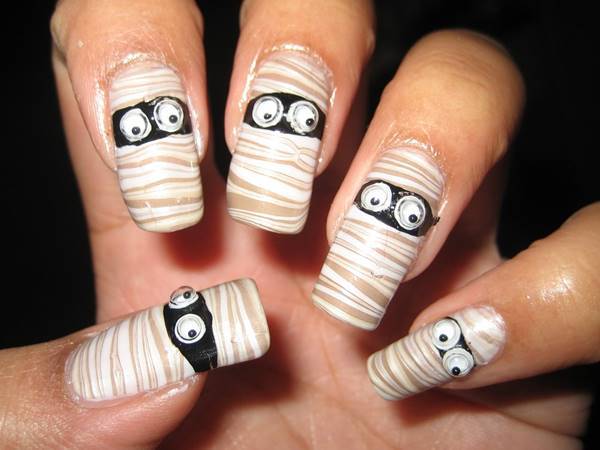 Tutorial via My Simple Little Pleasures
17.Moon Mani
Pulling off this lunar phase manicure by Alicia Torello (@aliciatnails) at home may be less likely than a blue moon. But still, isn't it such a pleasure to admire on the 'gram?
18.3D Ghost Face Nails
The mere mention of ghosts can make those showers of terror flow through our bloodstreams. What if it's Halloween and everyone you meet discovers that you have trapped ghost faces and their spooky fingerprints right there on your nails, coating them all with a white blanket of paint? All thanks to the amazing effects of 3D UV gel nail paints, this manicure yields in ghost faces embossed on your fingertips, finally coating them with another layer of white polish. Though, the first look makes it seem a bit hard-to-achieve, it's absolutely effortless to pull off the design.
Design Details : totalbeauty
19.Sugar Spun Spiderweb Nail Art
Freak the heck out of all with thick and tangling spiderwebs that have covered your fingers in horror – reflecting the sense of an abandoned ghostly space. Recreating the spiderwebs with the amazing technique of sugar spun nails is oh so easy and looks best with all its intended imperfections worked out in the combination of black and white. So, you don't have to be an expert to get it all done, and yes, let one of your nails give seat to a creepy spider ready to spread the webs all over the place, making everything even more nerve-racking.
Design Details : piggieluv
20.I Ripped Up My Nail!

If you love to integrate a look that's bloody, gutsy, and gory on Halloween, perhaps, this might be the perfect nail art inspiration for you! You wouldn't have thought some fake nails and red lipstick can turn your tips into realistic broken nails, worthy enough of building a wave of terror in everyone who takes a look at them. Check out this YouTube video by KlairedelysArt to create this pretty simple effect that will make your nails look like they have been ripped off accidentally, that too in just a handful of steps. Just a little patience and clever application of the lipstick is all it takes to achieve this painful-looking design to life.
Design Details : youtube
21.Skulls
YouTube shares another great video from HannahRoxNails as they show us how to recreate these purple and white skulls just in time for Halloween.
22.Vampire Nails 
Can you believe that these jaw-dropping nails take only three steps to complete? A coat of red nail polish "lips" are parted with a black nail stripe before pointy white fangs are drawn perfectly in place. (via MissJenFABULOUS)